Home
Free Feng Shui eBook
Feng Shui Consultation
Feng Shui Course
Paht Chee Class
About Feng Shui Seminar Feng Shui Tips Paht Chee Life Reading

Basic Feng Shui Course Advanced Feng Shui Course Feng Shui Master Course Paht Chee Course

Feng Shui Stories & Testimonies from my Feng Shui students

If you want to know & learn feng shui, go to Master TY Tan. He is a very good feng shui Teacher. He is very approachable and accommodating. He inspires me a lot. I've learned a lot more than what I'm expecting. I have no regrets for enrolling here except the class is too intensive.

I will come back again in Dec 2009 for the Master Feng Shui & Bazi class with my husband

..... Michelle Ann R. Caoile, Manila, Philippines.
Video Story from Michelle Ann R. Caoile, our Feng Shui student from Philippines,
10 months after the Feng Shui class

Feng Shui Stories & Testimonies from our Feng Shui students
Dear Brothers & Sisters into the Dhamma,

I am very lucky to have a very good lecturer of Feng Shui. Absolute, from beginning until the end of class, I followed and I was happy with Master explanation. I was very happy with the Basic & Advanced Feng Shui course.

Thank you very much to our Master.



........... Ven. Eh Sau Cha Cham, Thailand

The class teaches real feng shui knowledge. I am very lucky that I have such a good Master. I am very thankful that you give me chance to learn from you.



..... S. R. Nerkar. Mumbai, India

I like the way Master Tan teach. The class really open up my mind. This is the class I will recommend anyone who wish to learn real feng shui.

..... FS Lee, Puchong, Malaysia.

Your course is much more detail compare to the course I have taken in Singapore. I really improve my knowledge in Feng Shui. I'm happy.




..... Kalyana, Singapore.

I am very impressed on what I have learned from this school. I realized that Feng Shui is not just for Chinese people, it's for everybody.

I am very very satisfied on the teaching methods used. I am more confident on Feng Shui knowledge now.

..... Stephen Lirazan, Manila, Philippines.
Video Story from Stephen Lirazan, our Feng Shui students from Philippines,
10 months after the Feng Shui class

The feng shui courses is a no nonsense intensive class and gives you the tools to be able to apply to our life rather than too much dwelling on theoretical literature.

Practical is my choice of word to express.

Master Tan give a lot of examples and put in simple terms to explain. He is very patient in explaining.

I would recommend anyone interested to learn from Master Tan because you get more than what you pay for.

..... AC, Shah Alam, Malaysia.

The teaching method is very clear and flows smoothly.

I am very satisfied with the course. Master Tan teaches us everything he knows about feng shui where some info we do not read about.

Definitely would recommend anyone who is interested to learn feng shui.

..... Cynthia, Singapore.

Master is really a knowledgeable and experienced feng shui Master. He shares everything he knows about feng shui. Thank you Master Tan for such a good Master by sharing and teaching us feng shui.

..... SG Chan, Alor Star, Malaysia.
"After I have attended the Feng Shui Class, it benefits a lot on my business, family and friends. The first thing I tried is to shift my bedroom, rearrange the bed direction and ...... After a few months I discover I'm pregnant, that I have been waiting for more than five years. This is the most unforgettable moment I had. Thanks to this Feng Shui Class."


................................. Ms Jolie Choo, Kepong, Malaysia

" I thought fengshui is a difficult thing. But now I can fengshui my house by myself. It is miracle for me. And most happy is I can see my money coming in easily and I also make some money doing fengshui for my friends. I like to join your module 2. Can I join next month."


................................ James, Puchong, Malaysia

There are few days already since we are along the same journey: the journey of sustained concentration, awareness, work and learning; the journey of melting our Qi together and exchange it - from teacher to student and back from student to teacher again. We were together in the journey where the Qi of the teacher, the Qi of the student and the Qi of knowledge became ONE. Finally, grace to the Master all this 'becoming one' came to the life.

Regarding to this experience, I would like to thank you for your passion, the yang dynamism and yang energy emerging from your heart and spirit during this process. Specially, I would like to thank you for your compassionate approach and patient understanding of our questions.

The

body of knowledge

that you presented to us was almost overwhelming: from basic principles and concepts of

Feng Shui

to very advanced techniques and formula. Concerning my

personal experience

I can say: I was studying Feng Shui for few years but the deeply understanding of 'Wind and Water' happened to me just now.

Finally, I'm feeling very fortunate and blessed by having this opportunity to learn from you. You gave me the understanding, the clarification and the confidence that I was looking for since longtime. You opened for me many secret doors one after other. Finally you succeed to open for me the Feng Shui 'Door to all wonders'.



...... Daniela Loga Brueckner, South Carolina, United States

It has cleared many of my doubts that I have before attending the course although I have read many books on feng shui, and even searched for other various sources from feng shui experts. My doubts and questions were only answered satisfactorily after I met Master TY Tan.

Next, I learned that using the technology to supplement thousand years of ancient Chinese metaphysics has opened up many possibilities. Looking forward to learn more from the Advance Master's Course.



..... Felix, Petaling Jaya, Malaysia

I am so happy for the course I attended last few days in Kuala Lumpur with you. I'll do the enrollment to join the next advanced course. I am interesting to know the didactic programs that we will study in advanced course and in master course.

Actually I am practicing with 8 mansion that you taught and things are going well.



..... Alejandro Sole Costa, Florence, Italy

After attending the course, I know much more about feng shui. Most important part is the art of practicing. Books do teach the science but the practice part is different. I would like to thanks master Tan for the unselfish sharing of his knowledge.

..... Kevin, Kuala Lumpur, Malaysia

The teaching method is excellent. I learn a lot that I can't learn from feng shui books. The course is more valuable than the fee charged. The course is for student intending to practice feng shui professionally. I am looking forward to the next course.

..... Chang TP, Klang, Malaysia

Before attend the class, I have not much knowledge on Feng Shui. After the class, very much. The course illustrated and explain in depth what the ancient classic meant, "qi ride on wind and gather at the boundary of water" Thank to Master Tan.

..... Liew, Shah Alam, Malaysia

Indeed a very dedicated, sincere, knowledgeable and generous Feng Shui Master who is willing to spend his extra time to share more of his feng shui knowledge and feng shui secrets with all his students. The course is conducted in wide breath and great depth of feng shui knowledge, which is worthy for everyone to join. He also wants all of his students to progress forward to become a good future feng shui master to share the real feng shui knowledge to all people.

.... Justin Lim, Kuala Lumpur, Malaysia

Master Tan is very thorough in his knowledge, and I truly believe this is the best Feng Shui course in Malaysia if not in the world. Everything so far has been truly amazing These courses (Basic classical Feng Shui Course, Advanced Classical Feng Shui Course, and the Master Feng Shui Course) were both informative and practical, and all the courses include much added value that most students were not expecting. The case studies and group discussions has enabled me to consolidate the information given. Moreover, there is enough personal attention for every student. Every student's doubts were given clear and satisfactory answer with enough explanation.

..... Jane, Kuala Lumpur, Malaysia

I'm Loong here. One of your students who's doing the limousine business. My business is getting a lot better now only after 8 days since activating the wealth spot. I have activated the wealth spot as taught in your class and I started seeing amazing result. I really want to thank you.

I really enjoy attending your class and learned Feng Shui from you. I'll enroll for the next level. Please reserve a seat for me.

..... Loong, Kuala Lumpur, Malaysia

"Before the class, my knowledge on Feng Shui was in a general view from reading some books. The class is taught in a very systematic way and I realised that 8-Mansions Compass formula is as important as flying stars formula."

..... Ms Eileen, Petaling Jaya, Malaysia

"I did read books in feng shui before, but many of the terms and reasons behind is difficult to understand. After the basic class I have a clearer understanding of feng shui and practice for my home. Immediately my home felt good and my family begin meeting many good helpful people. I am looking forward to the advanced class."

..... Caelwin, Seremban, Malaysia

"I am fresh and do not know about feng shui before joining the class. With simple practice of placing red & gold Chinese New Year Cards and decoration at the main entrance side wall and a water plant in my kitchen, arguments with my wife is gone."

..... Wilson, Kuala Lumpur, Malaysia

I want to thank you from the bottom of my heart for being such a great "Sifu" over a short period of time. Your class is just like the sinus medication that cleared up my congestions with lots of my questions of "Why" in Classical Feng Shui practice.

Prior to attending your class I have been following a 30 year experience Grandmaster and my experience is limited to the Eastern teaching such as experience first then education second. You have shown me a proper method and enhance my skill in Ba Zhai (Eight Mansion ), Xuan Kong Fei Xing (Flying Star), Land Form (San He), and Location with Direction (San Yuan) Applications.

My foundation is not only firm after attending your class, it is "Rock solid with great depth on these subjects". The analysis of Wu Xing, Yin and Yang, Taiji subjects are just on my finger tips. You have provided me with great confidence and excellent foundation to increase our knowledge to another level in Classical Feng Shui.

I am proud to call you "Sifu"

..... Eric F, San Francisco, United States


I am so happy with this basic fengshui course that I attended for two days. It made me understand better and with depth the Yin Yang theory and the correct way of using the compass. Cant't wait to continue for the advance class.

I would recommend this course to anyone who is interested in learning authentic feng shui from a real master.
..... Hannah, Johore Bahru, Malaysia

Past Feng Shui Classes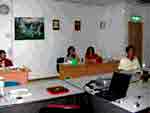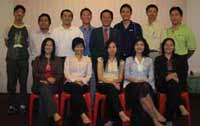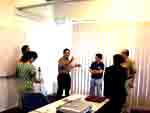 2005 Feng Shui Class 2006 Feng Shui Class 2007 Feng Shui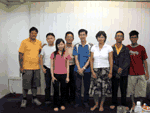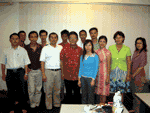 2008 Feng Shui Class 1 2008 Feng Shui Class 2 2008 Feng Shui Class 3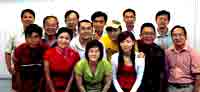 2009 Feng Shui Class 1 2009 Feng Shui Class 2 2009 Feng Shui Class 3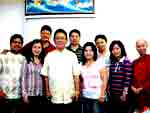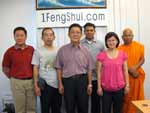 2009 Feng Shui Class 4 2009 Feng Shui Class 5 2010 Feng Shui Class 1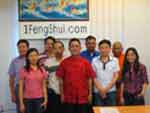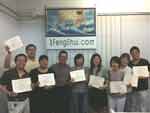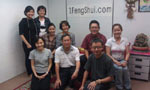 2010 Feng Shui Class 2 2011 Feng Shui Class 1 2011 Feng Shui Class 2
I like the class because it is easy to understand especially with the many examples and cases given by Master Tan.

SL Tan, Malaysia

I like the class most because of the case study of student's own house and how to write a Feng Shui report. I recommend others to join as the fee is also very reasonable.

Rosie, Malaysia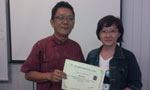 The class is very good because of the many examples and we got a lot of opportunity for Q & A. The case study to feng shui our own house is worth many times the fee paid.

Wong Yau Kong, Malaysia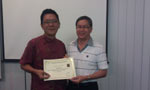 Anyboby who wish to learn feng shui should choose to learn from Master Tan because the course material and the way he presents makes it easy to understand. He is very experienced and you learn from the true master, himself. He conducted the class himself and it is value for money. My only wish is that I've attended this class earlier.

P. H. Yeoh, Malaysia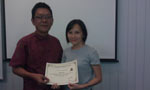 I have been practising Feng Shui on my own for many years and Master Tan has certainly enlighten my knowledge. to the finest detail. I highly recommend to newbies and also feng shui practitioners to attend this class.

Lena Kee, Malaysia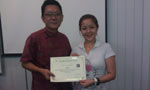 For the record, the money spent for this class was worth it. If anyone of you would like to learn more about feng shui, I highly recommend, you to attend "1FengShui" class of Master Tan. His lecture is easy and clear to understand.

Menchie Nadal, Philippines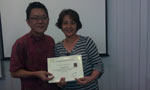 Video Testimony

Basic Feng Shui Course Advanced Feng Shui Course Feng Shui Master Course Paht Chee Course

Disclaimer
Feng Shui is an ancient wisdom handed down by our ancestors and it is a living skill in use throughout the Orient for many centuries. To the best of our knowledge, all information on this website are sincere representation of the subject and makes no claim for absolute effectiveness.
The adoption and application of the advice or information offered is solely the readers' responsibility. 1FengShui.com and its Associates are not responsible or liable in any manner for any loss or damages caused by following the suggestions in our articles and services.

Copyright © 2003-2006. All Rights Reserved. No portion of this site may be reproduced in any way without express permission of 1FengShui.com