Module 2 : "Advanced Paht Chee (Bazi)" Course
The "Advanced Paht Chee (Bazi)" course will be based on the following advanced theory:
Power Chart
Resource Chart
Wealth Chart
Output Chart
Parallel Charts
Extremely Weak Chart
Extremely Strong Chart
Fake Follow Chart
Transformation Type Chart
Family Affairs
Life & Conception Pillars
Wealth Analysis
Health Analysis
Career Analysis
Marriage Analysis
Life Analysis
Character Analysis
Gods & Devils
The 2 Hemispheres
Regulating Temperature
Qi Flow
Na Yin Wu Xin
Void Branch
Fu Yin & Fan Yin
The 3 Wonders
Images of 4 Pillars
Personal Magnetism
Body Meridian Application (Acupuncture)
TCM Application (Traditional Chinese Medicine)
Chinese Name & Business Logo Application
Practice, practice, practice is the secret key to master the art of life reading using Paht Chee (Bazi). This class consists of many case studies and practical life readings.
Students will have the opportunity to do real life Paht Chee (Bazi) reading. This will provide a platform for students to begin Professional Life Reading under the supervision of a Paht Chee (Bazi) teacher.
Who should attend:-
Those who have a good knowledge of Paht Chee (Bazi), but wish to master the art of reading birth chart.
Professional Paht Chee (Bazi) Master who find difficulty in assisting their clients to manage Destiny change.
Feng Shui practitioners who wish to be more effective in their practice by acquiring in-depth knowledge of the practical part of Paht Chee (Bazi).


Why study with TY Tan
If you want real teaching, not some lecture dressed up as a real class.
If you want to have all your doubts answered, not just apply what you are told.
If you want a worthwhile learning experience, with lots of case studies and practical
If you want an in-depth knowledge of the subject, as nothing is held back.
If you want a solid foundation and new insights into what you already knew.
If you wish to only pay for your studies, and not for luxurious and long tea-break or expensive 5 stars hotel conference room.
If you have only training in your mind, and not just attending another update seminar.
If you want personal attention, as all classes are kept small to ensure sufficient time is provided for Q & A session. Enroll early to avoid disappointment.
For "Classified Student" with a name to lose
Private one-to-one special course can be arranged for Professionals or Masters who wish to upgrade their skill but have great concern on their reputation. This one-to-one class will be classified, and both teacher & student cannot and will not use each other name for publicity. Email me to explore further. Please be direct by mentioning "Classified student" , then all communication and information exchange will be classified.
For confidentiality, please do not call my office, email me as I personally handle my email box.

Advanced Paht Chee (Bazi) Class - Lecture



March 2010 Advanced Bazi Graduates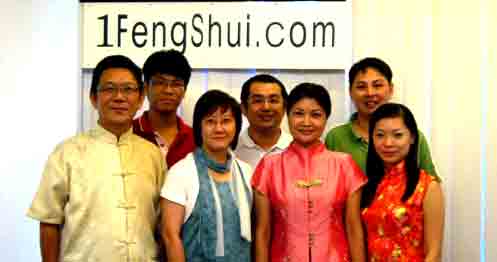 Alan Chong Amy Chong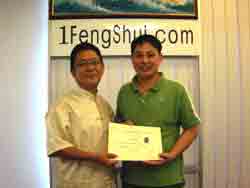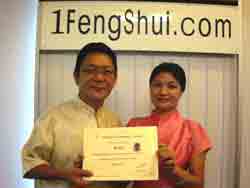 Ben Jane Rosalind Ang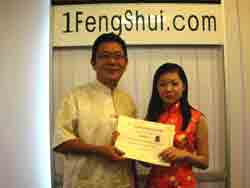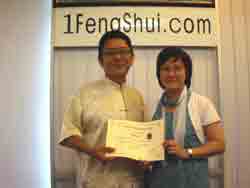 Wilson Chin Jeffrey Tan