Taking direction of your house without using compass is not only possible but is much more accurate than any Luo Pan or Compass. This is possible with the use of technology.
This has make online feng shui consultation possible and in fact this method provide a much more accurate measurement than using the Luo Pan. Using the Luo Pan, feng shui master often have difficulty in taking the measurement because of electro-magnetic interference of the environment, the variation in building construction and the environment.
A drawing board, ruler and a pencil are all that you need to take the shadow of the sun. The only set-back is a sunny day is needed. Below is a sample exercise done by one of my client completely by himself. My client needed to do is placed the drawing board square-on the glass window and traced the shadow of the sun. The date and time the shadow was taken needed to be noted. The rest of the calculation is done by me.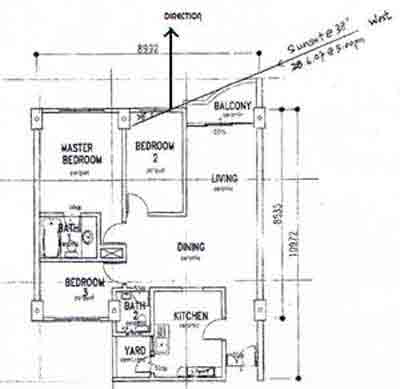 Using technology, I have to find out the location of this property in term of the latitude and longitude, the location of the sun and the magnetic declination of the location at the time the shadow was taken.
In the above case the data was as follow:
1) the location is 3° 12.39' N and 101° 36.39'
2) the location of the Sun from location is 295° 42' 59.1"
3) the magnetic declination is -0.16°
From the above data, I can ascertain that the direction that the window (indicated by the arrow in layout plan) is facing 243.556°. In fact no Luo Pan or compass can measure a direction to such accuracy.
In fact when I conduct on-site consultation, I always use this method to double check against my Luo Pan's reading and very often such accuracy is needed when I need to use the 384 sub-sectors of the Luo Pan for effective result.
Note : This method is taught at my advanced feng shui class.